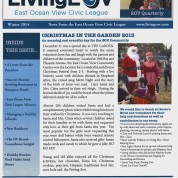 An article in Jan. 2014 East Ocean View Civic League Newsletter http://www.livingeov.com/tells the Community about the wonderful time had by all that attended the Christmas Festival. It was held in the East Ocean View Community Garden this past December and was a huge success .
Deborah and Chris Lutz,  Owners of U&I Home Decorating and Staging, played Mr. and Mrs. Santa Claus in the Christmas Festival. They were extremely touched by the requests of the children and all who volunteered to make it a success.
A young brother and Sister just wanted to be reunited with their family, and another little girl just wanted to be loved. It makes you stop and think how valuable a simple smile and a kind word truly is today……Reach out and touch your Community!  Giving Back is the easiest way to help.