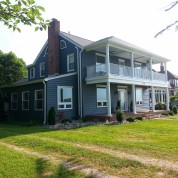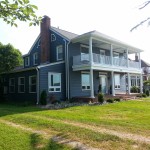 This beautiful Colonial Revival home sits across from an amazing view of the Chesapeake bay. The home had character and charm but needed a little something extra to help her have the regal appeal she deserved to match the view she looks over each day.
Beginning in the cold months of January we had our challenges of working on a breezy waterfront property, but will power and vision of what was to be revealed kept us going.
She now sits proud, regal and beautiful with new windows and lead stained glass doors to let in sunlight. A gorgeous midnight blue plank siding gives her the color of the deep sea. Let's not forget those amazing porches with outdoor ceiling fans and comfortable sitting, allow you to experience the true Southern charm of a warm breeze over the Chesapeake Bay.
Landscape foundation plants surround the lower porch and will grow tall around the edges to reach up to the new porch roof line. Hopefully to be followed by a circle drive later on in the next project.
I truly love what I do for a living. I get to help beautiful things become more beautiful and I am grateful.
Thank you for reading and keeping up with U&I's latest projects.